The digital age has introduced lots of new lingo: tweep, Instagramming, fintech, etc. SaaS is one of the fancy new words, but what does it really mean for you and your business? The acronym SaaS stands for Software as a Service, which means subscribing to a cloud-based solution.
The benefits of SaaS
In the "good old days" we all worked using software installed on computers in our offices. These could only be accessed there. Now, thanks to the digital revolution, SaaS facilitates teams to work and collaborate anywhere in the world where they have an internet connection.
While there is a subscription charge for SaaS, the cost is much lower than spending your hard-earned dollars on hardware and licences. You can also save money on tech support since the SaaS platform will take care of updates and security. Also, you won't have to add more servers and storage when you want to scale up: your cloud storage will scale in line with your ambition.
But one piece of software has limited value on its own. Great functionality comes from many building blocks. There is an ever-growing number of technology solutions to marketing, HR, sales and customer service problems. Many of these have great potential; however, they are too complex to be agile.
Creating a tech stack
So, in order to maximise their value, they must huddle together in a stack with other technologies. A stack can include dozens of elements: both Microsoft and Cisco have more than 40 technologies in their respective marketing stacks alone!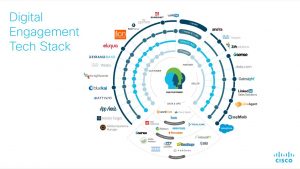 A tech stack facilitates you to manage your digital assets by integrating technologies to give you the maximum flexibility and allowing you to use the best of breed solutions for various functions. These include applications like Salesforce for CRM, Trello for workflow and Overcast HQ for video management.
The Stackies
To underscore its importance, there's even an award for tech stacks! It's called the Stackies and it rewards companies who demonstrate the best marketing stack in terms of insightful concept, business alignment and clarity of purpose.
The 2019 Stackies (Marketing Tech Stack Awards) are now open for entries until March 15, 2019. All entries will be celebrated at a ceremony on the opening night of MarTech in San Jose on April 3 — and the five best entries will be awarded trophies.
So in order to elevate your business capabilities, accelerate time to value, and provide your team with ubiquitous access to projects, it's time to get SaaSy!