How Does Your Technology Stack Up?
Tech Stack
During tech awards season in Ireland one technology award that you may not have heard of is the Stackies. The what? The Stackies! They are described by Scott Brinker, chair of the MarTech Conference (which presents the awards) as "the coolest awards programme in marketing!" It's an accolade for companies who demonstrate the best marketing stack in terms of insightful concept, business alignment and clarity of purpose.
So what is a marketing stack? Well, it's the collection of all the different software you use in marketing (marketing automation, social media management, content management, CRM, advertising, DAM, video, SEO, etc.)
If you were to analyse all of the different marketing technology tools that you're using across your organisation, you might be surprised to discover just how many there are. Having this information is very useful strategically because you can then assess the purpose of each piece of the stack jigsaw and decide whether it serves the overall functionality of your stack.
How big is your stack?
The Stackies provide a very valuable opportunity to learn from market leaders. In 2017 the awarding body published 57 marketing stack illustrations, including Microsoft's stack, which uses 44 platforms and Cisco's, which uses 40.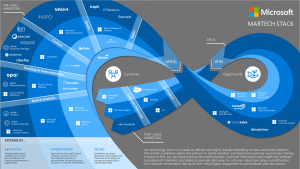 If you hear companies claiming that they provide an end-to-end solution, you'd be well advised to check out their stack since very few actually do.
You're probably familiar with CMS (content management systems) — WordPress is a good example. It's used by companies to push out content. Within that platform, the content needs to be managed: drafted, edited, formatted, cross referenced through hyperlinks, combined (images, text and video), and published.
But how do you create the content that you wish to publish through a CMS and what kind of management does that entail? You'll need an asset management system with a stack that's designed with your workflow in mind. You'll need to import media (images and video files), edit them, collaborate on them, store them, share them with stakeholders for review, get approval, export them in different formats and archive them.
How does a stack help consumers?
Stacks, if well designed, make tasks easier.
Overcast has created a comprehensive and strategic technology stack to make it effortless for you to manage your digital assets, in particular video assets. In fact, our stack makes it as easy to manage video as it is to manage a Word document.
The technology that we use in our stack includes AWS (Amazon Web Services) which features the best storage and voice-to-text functionality in the market. We also use the JW Player, which is first-class software that embeds videos into web pages.
Some other celebrity appearances in our stack include Google Cloud, Microsoft Azure, AVID, Video.js and Mailchimp.
We have also combined these renowned leading technologies with our own proprietary software. For example, we use artificial intelligence to facilitate people to search their video clips for objects, settings, colours, events, words, sounds and facial recognition.
The integration of these and the other technologies in our stack create a streamlined, smart, easy-to-use video management experience for all of our clients. Want to make your work life easier?