Why Invest In Corporate Video Technology?
Enterprise Video Explosion
The use of video as a business tool is exploding in popularity, but what's also constantly expanding is the range of ways in which video can serve a business to foster more engaging communication with workers and share business intelligence with co-workers, customers, partners, prospects, vendors and shareholders.
However, as enterprises scale up their video production, many find it very difficult to manage, particularly in terms of making it easier for teams to collaborate and speeding up reviews and approvals.
"Killer Application"
Enterprises using video are all searching for that single "killer application". In order to find a video management solution that matches your company's needs; you need to take an honest look at the uses of the technology that will be most meaningful to your day-to-day business activities.
A recent study by Wainhouse Research entitled 'Preparing Your Enterprise For The Intelligent Video Era' identified the most common use cases for one-to-many video in the workplace.
What Do People Watch?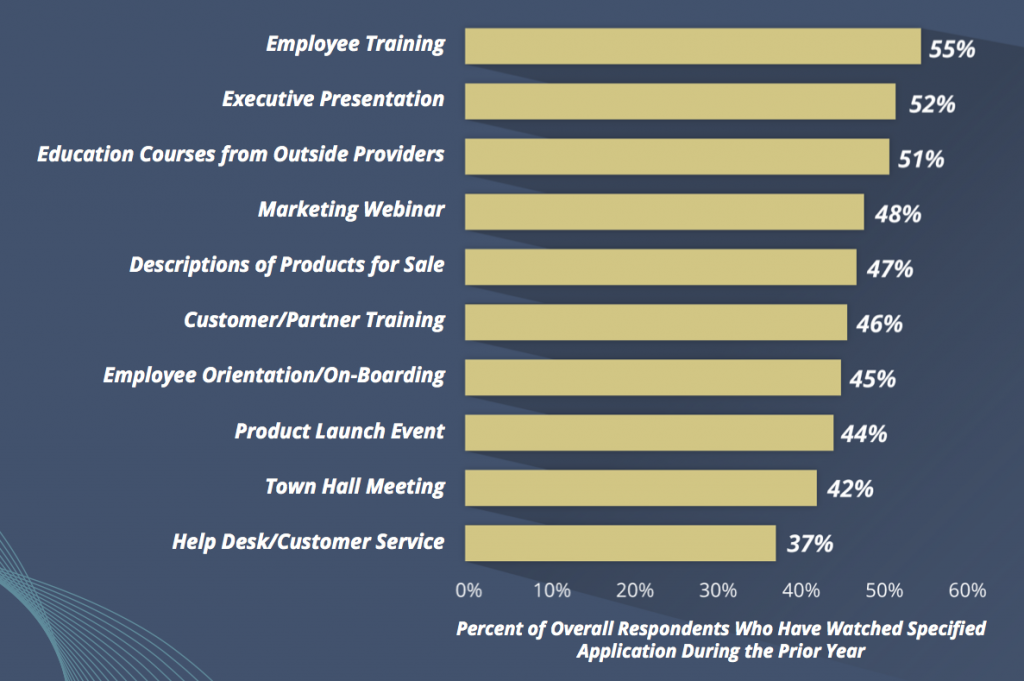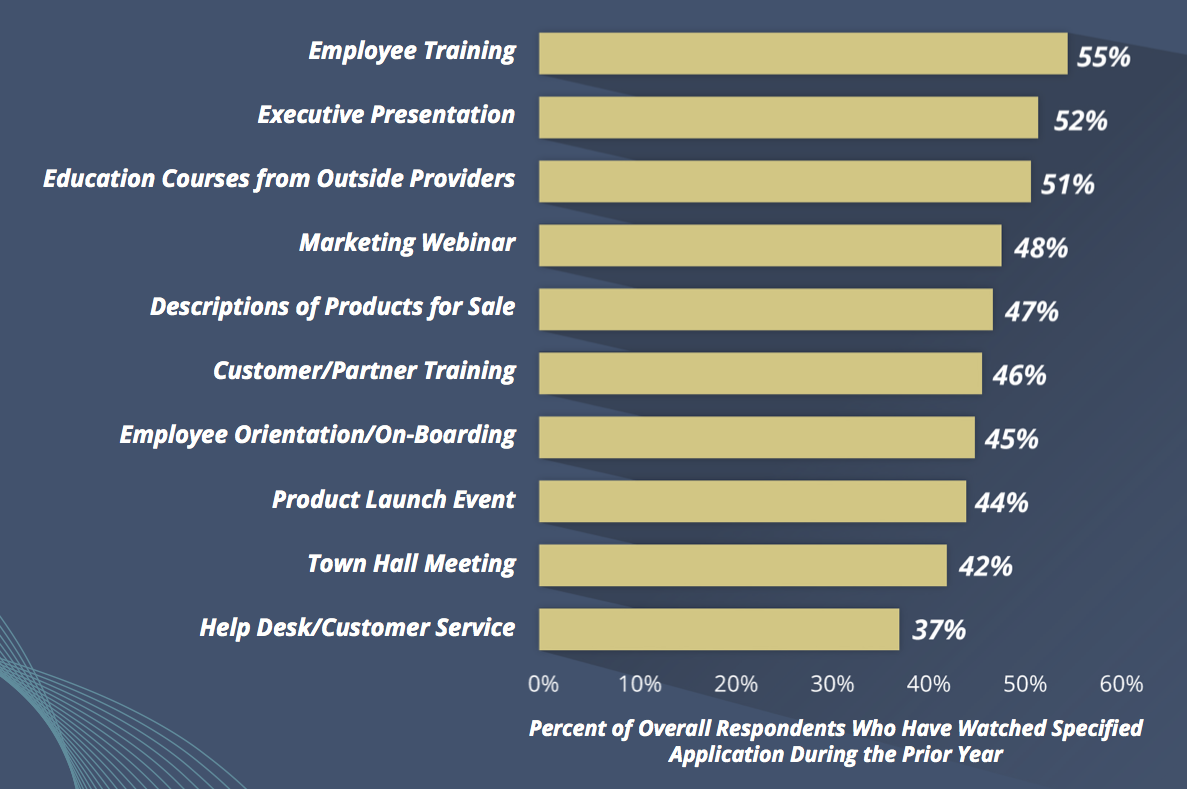 Employee training ranks as the most frequent application of online video viewed in a business setting. More than half of respondents (55%) reported they'd watched an online training video at some point in the year leading up to the survey. Another 51% of all respondents reported viewership of education courses supplied by outside providers. 
The second most popular type of business video was executive presentations, viewed by 52% of all respondents. Marketing applications were also widely consumed with marketing webinars (48%), descriptions of products for sale (47%) and product launch events (44%) all drawing widespread viewership in the workplace.
Investment = Results
The increasing consumption of live video by business professionals illustrates the need to invest in top class streaming technology. The survey found that 19% of respondents watch live business video via their PC on a daily basis, while another 28% watch at least weekly.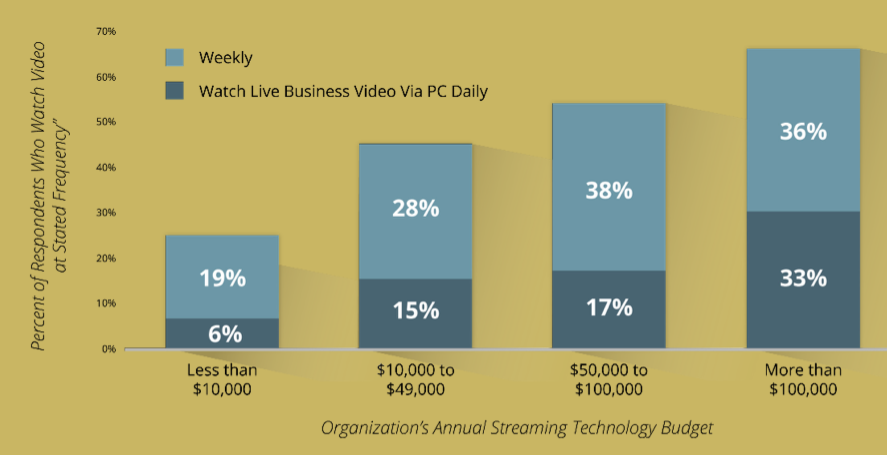 It emerged that the higher an enterprise's investment in video streaming technology, the greater the number of people who viewed live business video on a daily or weekly basis. That figure was a cumulative 25% at companies whose annual spend was less than $10,000. But these viewership totals proliferate at organisations spending more than $100,000; 33% of respondents reported daily viewership of live business video via their PC with another 36% saying they watch live video at work at least weekly.
What To Invest In?
Wainhouse Research concludes that those seeking to champion the implementation of video within their organisation should pay specific attention to the communications priorities of top management and implement technology solutions best-suited to address the key issues they have identified.
Future-proofing video technology investments needs to be a key consideration. Therefore look for solutions that feature an "open" architecture for integrating with other technology solutions.
When To Invest?
But when is the right time to make this investment? Enterprises may procrastinate on this decision for any number of reasons, including fear workers aren't skilled enough in video production or because they're waiting for the "perfect technology".
However, any delays in deploying streaming solutions mean losing chances to enhance corporate communications and build a competitive advantage. The video revolution is here and the time to invest is now!