Remote Work: The Evolution of Enterprise Video
How remote and hybrid work changed enterprise video
Video has long been one of the key communications tools for Enterprises to fulfil their business objectives. But when the pandemic dispatched us to our homes to work remotely, suddenly it wasn't so easy to create, collaborate on, and broadcasting video. Work had changed. Leveraging video for business was about to change too.
What kinds of videos are enterprises distributing?
The types of videos that viewers are most familiar with — corporate brand videos, product demo videos, how-to instructional videos, employee training videos, customer training videos, case studies, testimonials, and employee spotlights — are still the red carpet of enterprise video strategy. 
But the need for audiences to be able to watch, communicate and engage remotely sparked an evolution in business-related videos that centres on virtual dissemination. 
Silverwood Partners' Media Technology: Strategic Industry Analysis 2022 shows that virtual events and webinars are the fifth most popular type of video that serves business-critical functions. 
Other events, which previously would have been real-world ones, have also fed this trend by moving online. These included panels and roundtables, recruitment events, C-suite fireside chats/interviews, town halls, and briefings.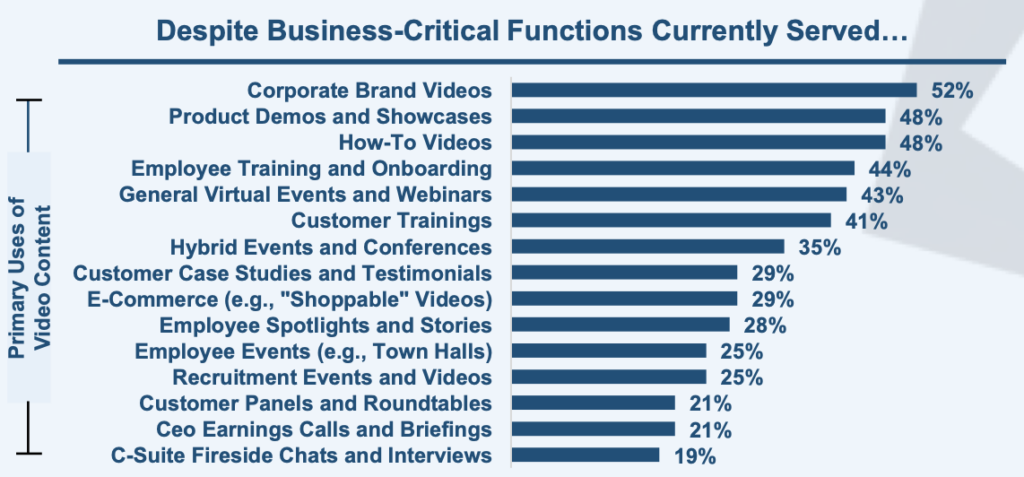 If it's that easy, why isn't everyone doing it?
Creating, broadcasting and distributing video content was never easy, but the complication of disseminating it to remote or hybrid workforces and customers proved even more challenging. Unsurprisingly, time (37%) and budgetary constraints (36%) were the biggest problems encountered.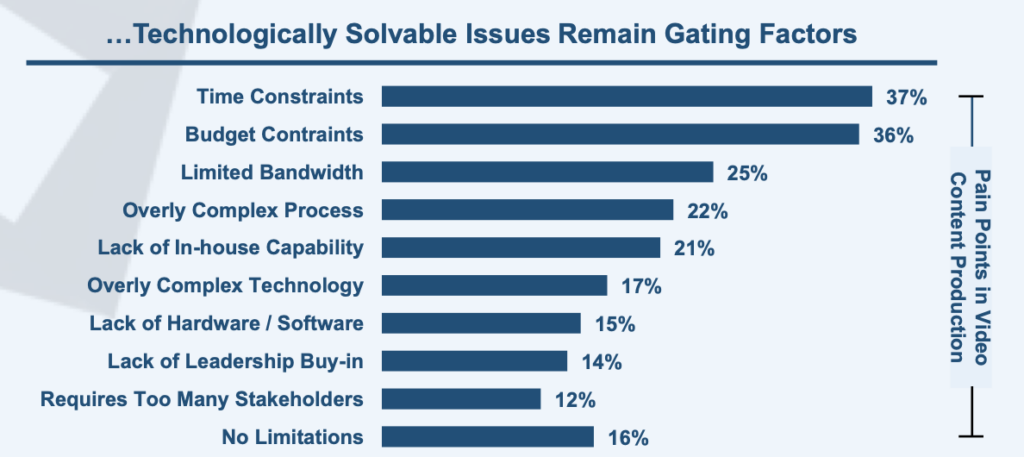 Additionally, nearly three in five respondents reported that they have to use so many different technologies to create, broadcast and distribute video content, they often feel overwhelmed.
So, what's the solution?
Many of these problems — time/budget constraints, complexity of process, lack of in-house capability, lack of the right technology — can be addressed through media pipeline management. Overcast MAX saves you time and money with a streamlined workflow and BYO storage. Image recognition speeds up the process of finding clips. Transcoding to multiple formats is automated. Basic editing is so easy a toddler could do it. Your content is secure. And the best thing is: you can simulate your costs before investing. It's a no-brainer!
Become a video Ninja
Come and see for yourself. Get in touch for a demo of our platform to see how it would benefit your business and make video easier.