Creating Content: Personalization Versus Speed
Digital technology has revolutionised the film and video production industries, confining celluloid to a handful of highly-funded Hollywood movies. But more importantly for the business sector, it has democratized video production: now it's as common for enterprises to make videos as it is for film studios to make movies. 
The era of personalization
But this is not just the video age, it's also the era of personalization. In the same way that no-one wants their doctor to treat them the same as the other patients in the waiting room, consumers want brands to see each of them as an individual and create content they feel was authentically made and designed just for them. This is how brands create a connection with people.
So how are brands doing in terms of creating personalized content and what barriers are they facing?
How well are brands doing?
Adobe recently published a survey on The State of Creative and Marketing Collaboration, which set out to uncover how creatives, marketers, advertisers and IT professionals are working together to keep up with the fast pace of content creation and deliver exceptional customer experiences.
They surveyed more than 1,000 people in those roles, mostly in companies with more than 500 employees.
The results show that brands are struggling with content creation, in particular the length of time it takes to turn personalized content around. The survey reveals that it takes brands, on average, 17 hours to create a single piece of short form content! This rises to 27 hours to create a single piece of long form content, such as video. It takes companies, on average, 12 days to take a single piece of content to market!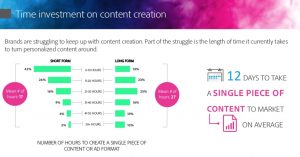 What's stopping us?
The survey also looked at the barriers to personalization of content: the time investment needed to create and iterate content comes out on top. Other issues which surfaced include requests for minor changes and the difficulty of tracking feedback about each version created.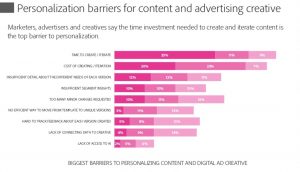 "Is this approved for publication yet?"
All of these conclusions suggest that brands' review and approvals process for content is slow and clunky. Delays in getting content reviewed and approved for publication means slower time to value. 
Therefore, a streamlined, efficient workflow is required. A cloud-based video asset management platform like Overcast HQ allows you to notify your colleagues and clients when you've shared content with them. Then — instead of wasting time getting people together for meetings — they can view and review your videos in one place, facilitating a speedy approvals process.
It's also super-easy to identify which part of the video they'd like tweaked since all comments are time-stamped. In addition, instant commenting — like instant messaging — allows you to collaborate in real time with your team, colleagues and clients, which is another big time-saver.
How well do professionals think they're doing?
Adobe's survey reveals a disconnect between how colleagues from different departments perceive the effectiveness of the content workflow. 54% of IT professionals believe content creation and delivery are very well coordinated, but this contrasts with just 28% of marketing executives.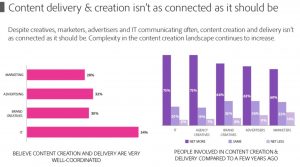 Another fascinating insight is that the number of agency and brand creatives, advertisers, marketers and IT professionals involved in content creation and delivery has increased significantly in the past few years: 75% more in the case of IT professionals!
How can we do better?
This is an astounding increase across all roles and it shows the centrality of creating content — in particular, personalized content — in the business world today. We must all become creators and publishers. In order to do that efficiently and effectively, we need to learn to manage content better.