How Big is the Creator Economy?
Is the creator economy the best thing since sliced bread?
Good question! Adobe decided to find out. It conducted a study to understand how creativity is changing around the world, getting insights directly from those at the front line of online creativity: creators in the Creator Economy.
The study shows that, across the globe, the Creator Economy is booming!
What is this 'creator economy' thing anyway?
The creator economy refers to a sector in which independent content creators monetise their skills, artistic endeavours, and even themselves. They might be creative artists, designers, gardeners, sports people, activists, etc. — what they have in common is that they are truly passionate about their subject.
According to business.org, more than half of these creators post their work on Instagram. The other half use YouTube, Twitch and other social media platforms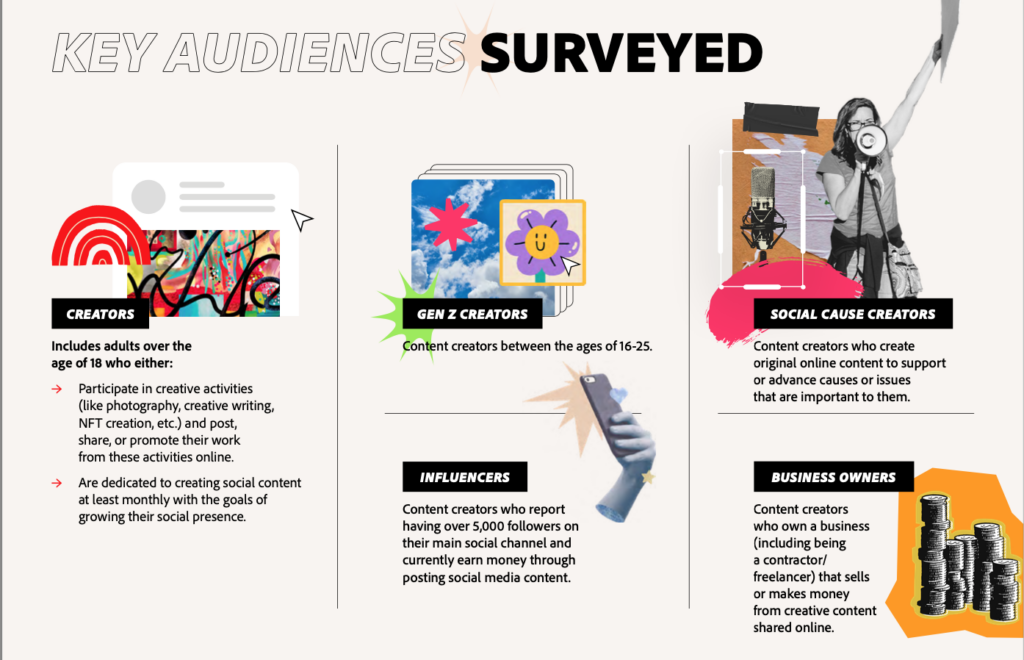 How big is the creator economy?
Well, it's big…very big…in fact, huge! Adobe's report on the creator economy found that, in the territories it surveyed, an average of 23% of people are creators. This means that almost 1 in 4 people are contributing to our online spaces. Across 9 markets, 303 million people are creating their own content.
Which countries are creating the most content?
Here's the surprising part: Spain, which has the second smallest population of the countries surveyed (47 million), has the second largest concentration of creators at 36%. Korea, which has only a slightly higher population than Spain (52 million), was close behind on 34%.
Brazil topped the poll in both of these metrics — it has the highest number of creators (106 million) and also the highest concentration (50%).
Markets like Brazil, Spain and South Korea have the highest concentration of creators while markets like the US, Brazil and Germany have the biggest creator populations.
Another surprising finding was that the United States has 20 million fewer creators than Korea, despite having a significantly higher population: 328 million compared to Korea's 213 million.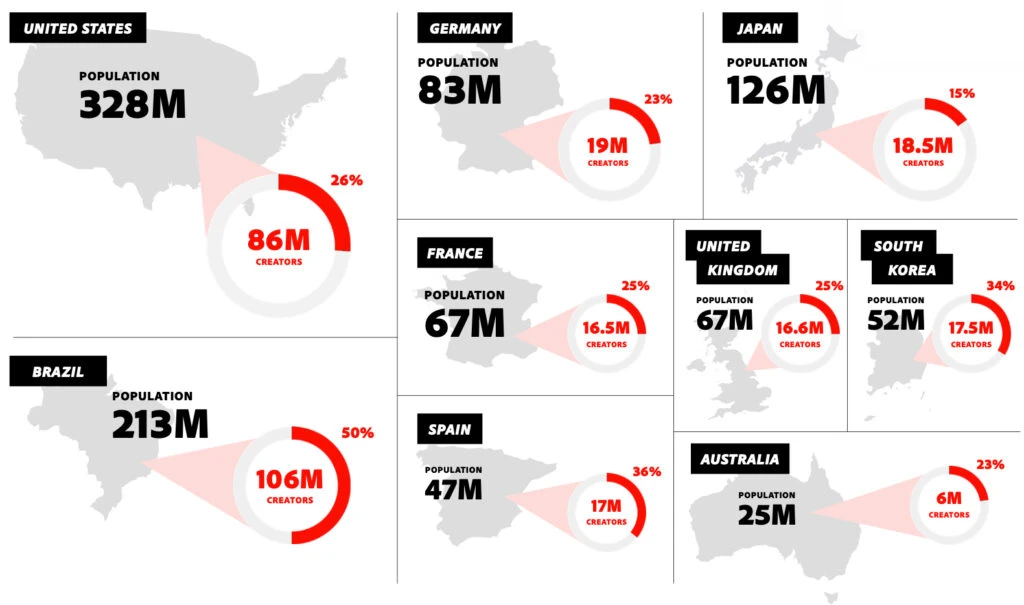 How can you tap into this phenomenon?
These statistics make content creation sound like a no-brainer in terms of business strategy, right? However, in our blog post The Evolution of Enterprise Video, we looked at the challenges of video production. The good news is: that blog post also reveals the solution to those problems!
Need a hand with editing?
If you're a Premiere Pro editor, you can now access Overcast's Video Review & Collaboration tool through Adobe Exchange.
Talk to us
We'd be delighted to have a chat with you about how our video management platform can give you a massive leg-up in the creator economy by making your content creation easier. So, click here to request a free demo of Overcast's platform.