Meet Amazon's New Voice Recognition Technology
Not content with knowing what you eat for breakfast, Amazon launched three new products on Thursday that can tell you what you, a human, is saying; exactly what you meant by that; and translate it into over a hundred languages.
Taking the stage at AWS Re:INVENT, Amazon CTO Werner Vogels revealed to the packed auditorium of developers Amazon Transcribe, Translate and Comprehend.
Available soon as a review (link), developers will be able to integrate trio of new products into their own apps and services sometime in 2018. Here's exactly what Amazon's new services do, and how your business can use them.
It starts with Transcribe
Audio goes in, words come out. At a massive scale.
Amazon Transcribe can take just about any Mp3, Wav or Flac file – even low bitrate files – and spit out accurate text. But for the first time, Amazon's machine learning means that we get pretty accurate punctuation too.
The uses for a good transcription API are million-fold, and are a huge step forward for audio automation – and bad news for the call-centre workers who just got replaced by 22 lines of code. Low bitrate support is code for telephone-quality audio support, so now your company can generate logs of every customer support call, context-aware, with timestamps.
Marketing videos – especially those aimed at commuters using mobile devices – can now have their subtitles generated automatically. Expect to see digital asset management services (like Overcast) make hay of this in 2018.
Digital advertising is set for new heights of amazingness as marketers will soon be able to target you based not just on what you type, but what you say and what you listen to. Context-aware audio marketing just became a real possibility as machine learning can understand emotions like excitement, hesitancy and acquiescence.
Amazon Translate
Past audio-to-text software had one huge functionality gap for big companies – they worked well only in English, and ignored the swathes of customers calling in to complain about their phone bill in Spanish, Portuguese or Chinese. Now, Amazon says Translate's "neural machine translation", which uses machine learning and deep learning models, can efficiently translate huge amounts of text into over a hundred languages. And because it's context-aware the results are pretty great.
While the likes of Google Translate are great for asking directions to the nearest library on your school trip to Paris, Amazon Translate can localise websites and applications to the individual user. So that advert for 6,000 pairs of socks on Alibaba.com will finally make sense to the rest of us.
Amazon Comprehend
In increasing order of amazingness, I present: Amazon Comprehend.
Amazon Comprehend is a natural processing language (NLP) <<Link>> that can understand the context of a piece of text, read insights into it, and even understand that text's relationship with another text. This has huge implications for aggregation of insights into customer support incidents, product reviews, news articles, your social media feed – anything you can commit to text.
Moving up to a wider-angle lens, Amazon Comprehend can analyse a collection of documents, organise them by topic, and then deliver personalised content to the end user. Those newspaper digest emails suddenly got way more relevant.
At the launch, Amazon pressed hard on the applications for voice-to-text in customer service workflows, and demonstrated how it can provide the company with a holistic view of the customer experience before they get as far as needing support.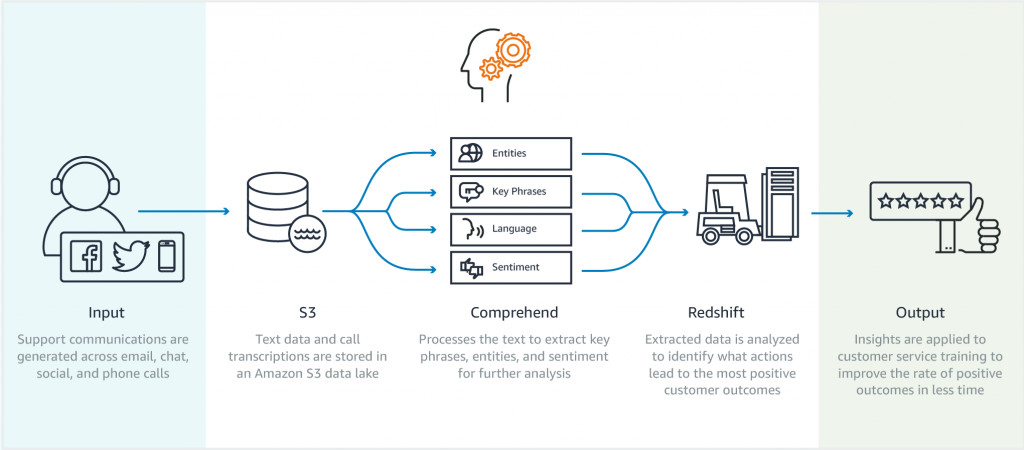 If you're into digital asset management, Amazon Comprehend can plug-in better search results by enabling search to index keywords, entities and – scariest of all – sentiments.

Imagine your marketplace website sells products that customers can review – now your search function can return results based not just on 1-to-5-star ratings, but also the sentiment of attached customer comments. All on the fly.

Ready to join the world of tomorrow? Amazon's new triumvirate is available for Preview Signup, with accounts expected to be rolled out in the coming weeks.
OvercastHQ just released our first product – our Video and Digital Asset Review and Approval tool – on Amazon Web Services. Check it out here.