Get Your Head Out Of The Cloud And Your Video Files Into It
Size matters. And when it comes to video file sizes — things are just getting bigger.
Over the last decade, we've graduated from standard definition to high definition, 2K, 4K and now 8K. Combine that with image enhancement technologies and we are talking about file sizes ballooning. 
The media and entertainment industries are driving the changes, hoping that the better quality will drive more viewership and lead to more revenue. But it's not just the M&E industries that are chasing higher quality; businesses and brands are jumping on the bandwagon too. So just what are the implications for businesses?
Do video file sizes matter?
Size certainly does matter if you find you don't have enough storage space for your large video files and it takes absolutely ages to transfer or share it with stakeholders or collaborators. This will slow down your production workflow and delay time to market. A recent Adobe survey revealed it takes brands on average 27 hours to create a single piece of long form content such as video and it takes companies on average 12 days to take a single piece of content to market. We think this is crazy!
How big is Big Video?
So let's break down the problem: how big is Big Video? 1 hour of 4K (cinema resolution) video shot for a 30-second TV ad is equal to 300GB — that's larger than the hard drive storage on an average computer! The next step up from that is 8K, which is 16 times bigger than HD (high definition) video. The graphic below by Signiant shows that one hour of 8K RedCode Raw 75 amounts to 7.29 TB (terabytes). That's 121.5 GB per minute for raw 8K.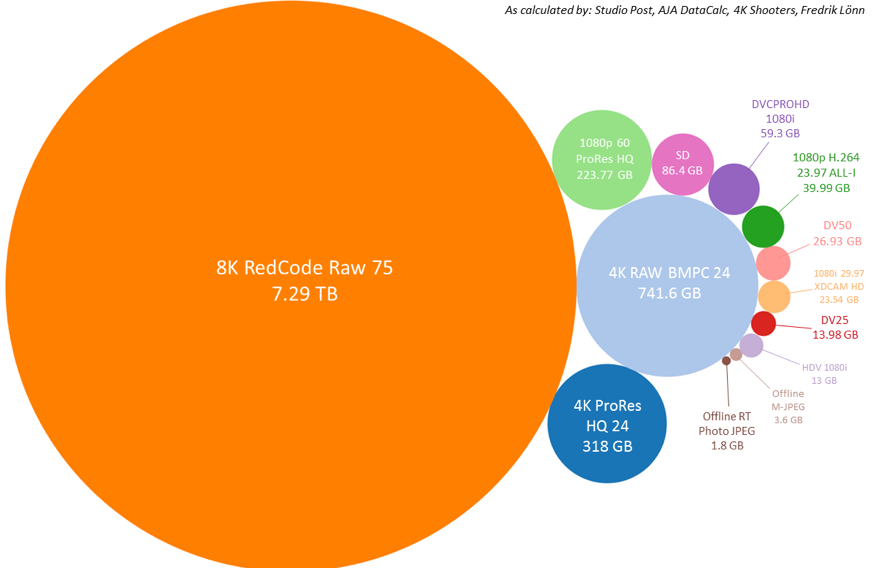 It's not just the resolution either. There are also other factors which drive larger file sizes, in particular, image enhancement technologies such as Wide Colour Gamut (WCG), improved colour depth, and High Dynamic Range (HDR) — which, in simple terms, means the whites are brighter and the blacks are darker.
So what's the solution?
Even if you're not working with 4K or 8K files, if you are producing a lot of videos, you will need a workflow that can store your large files and allow your team to collaborate on them efficiently and effectively. The cloud is the obvious frontrunner by a mile. Overcast HQ is a cloud platform built on Amazon Web Services (AWS) using the most advanced technologies for automating video processes and making it possible to send and share large video files quickly. It's simply changing the way media content is managed. You can request a demo by clicking here.