Solutions to Creating and Distributing Enterprise Video
Creating and distributing enterprise video
The benefits to enterprises of using video, for both internal and external business functions, are boundless. Video has emerged as a very critical element of a company's content marketing strategy.
The Creator Economy has generated a video-first approach for creators. This offers a wealth of opportunities to enterprises. However, it also creates several challenges. The first one relates to the creation of the video content: interest outpaces ability.
Interest outpaces ability
Video production is a craft in itself and, in addition to that, factors such as time, budget and complex technology are creating barriers to creating, broadcasting and distributing enterprise video. In our blog post on The Evolution of Enterprise Video, we looked at the biggest limiting factors that enterprises are experiencing.

Low-latency delivery
Another challenge for enterprise video is that consumers have very high expectations in relation to dissemination. They expect seamless delivery on all devices everywhere with little-to-no tolerance for slow, low-latency video. 
Consumers are accustomed to the reliability of 'traditional' broadcasting and they expect the same service from enterprise video. The good news is that a well-designed tech stack will facilitate low-latency video, which includes interactivity and engagement.
Silverwood Partners' Media Technology: Strategic Industry Analysis 2022 asked enterprises where they see the best opportunities for innovation in their service:

The disequilibrium between enterprises wanting to create video content, but being hampered by technical factors has created a major opportunity for technology providers to democratise video creation. 
Next step for enterprise video
So, what's the next step for enterprise video? As it becomes 'optimised' exiting the pandemic, it will provide the early foundation for the 'Enterprise Metaverse'.
"What is an enterprise metaverse?" I hear you cry. Well, it refers to immersive virtual spaces for businesses to promote their digital tools and services. Through these spaces, enterprises can avail of new possibilities to reach global audiences, create connections, drive engagement, demonstrate leadership, train employees, and lots more. 
Value of the enterprise video market
The Mordor Intelligence 'Enterprise Video Market' report valued the enterprise video market at USD 16.20 billion in 2020 and predicted it will reach USD 48.37 billion by 2026, at a CAGR of 20% over the forecast period 2021–2026.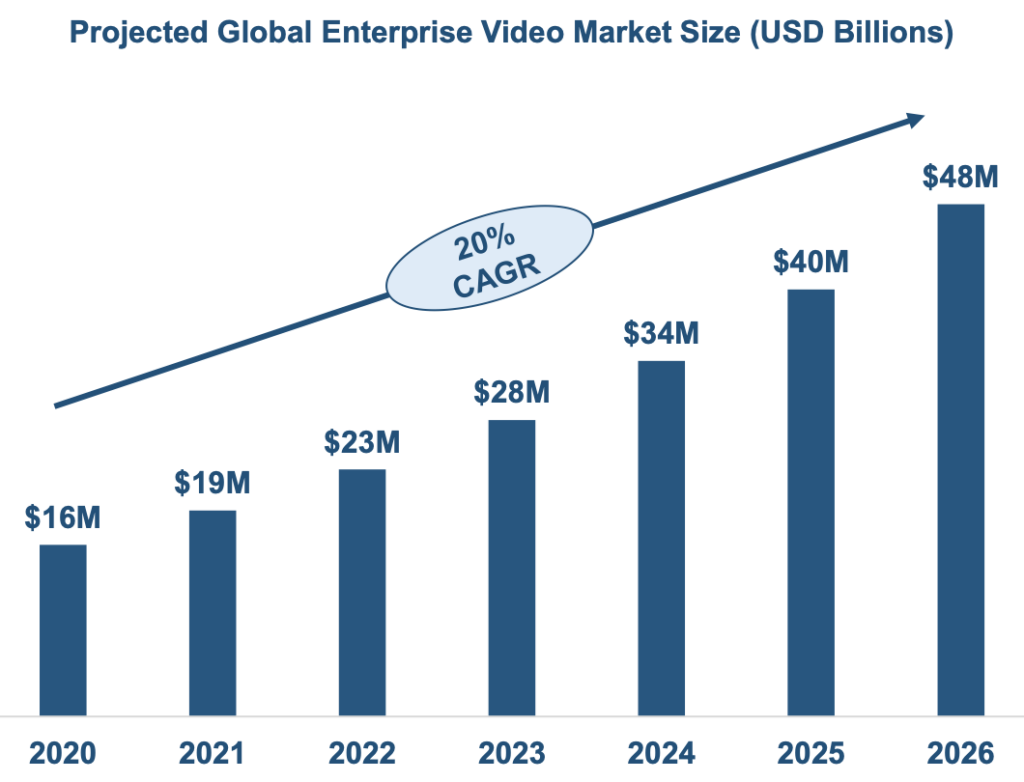 Technology is your friend
A video management platform provides solutions to the limiting factors identified above. So, reach out to us and we would be happy to give you a free demonstration of Overcast's platform and show you how you can have your slice of the USD 48.37 billion pie.