The Impact of the Creator Economy
The Impact of the Creator Economy
In our last post, we looked at the rise of the Creator Economy. Now, let's take a look at its impact.
This revolutionary phenomenon means that people who create content — from filmmakers to musicians — get funded directly by their audience. This has the disruptive impact of removing the traditional middlemen like record labels, film/TV commissioners, and publishers. (Source: medium.com)
This has created amazing opportunities for content creators. The content creation industry, in particular influencer marketing, achieved a staggering CAGR (compound annual growth rate) of 52% between 2016 and 2021.

In the Creator Economy, the audience decides what to see. And not just that! Because they fund the content, the audience wants value for money so they also participate in the decision-making process, influencing the direction that the creators take.
Video first
One of the key trends in the Creator Economy is a video-first approach. According to Fortune Business Insights, the global video streaming market was valued at $372 billion in 2021. It's projected to grow from $473.39 billion in 2022 to $1,690.35 billion by 2029, at a CAGR of 19.9% in the forecast period. 
One factor that's propelling the market growth is the demand for higher-resolution videos. In particular, consumers have an insatiable appetite for livestreamed video, but they won't tolerate delays, so there's a huge demand for advanced low latency (low delay) video platforms.
Demand drives technological innovation
The increase in tech-savvy content creators is generating a higher demand for media technology to support the proliferation of content than traditional broadcasters did, as illustrated below in Silverwood Partners' Media Technology: Strategic Industry Analysis 2022: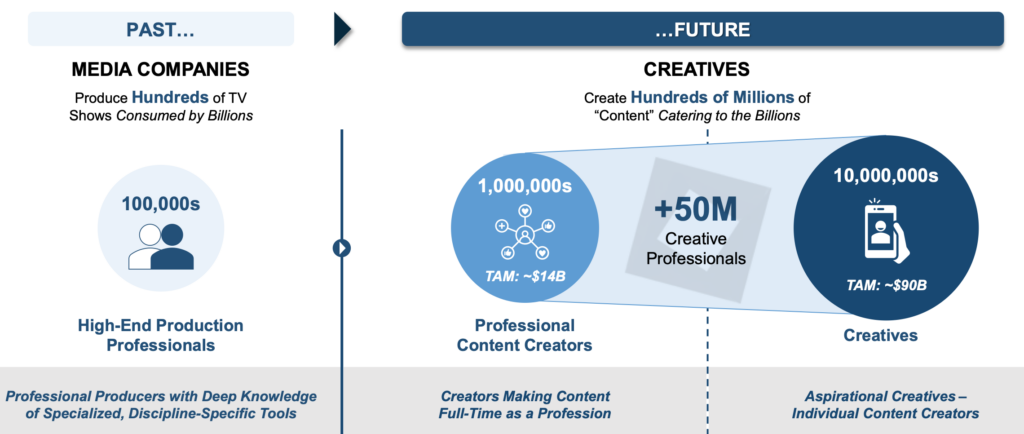 Such media technology is needed to manage all stages of the life cycle: from creating content to attracting and engaging with the audience. There's also the challenge of monetisation, both online and offline; not to mention the overall management of the business. So, tech needs to do some heavy lifting!
Let Overcast do the heavy lifting for you
Why not tap into the pot of gold that is video creation? Reach out to us and we would be delighted to give you a free demonstration of our platform.