The Rise of the Creator Economy
Lights, camera —> anyone!
There was a time when the phrase "Lights, Camera, Action" was only heard within the exclusive walls of Hollywood studios. Not so these days!
The past two decades have seen the rise of the Creator Economy…the lowering of technological barriers facilitates anyone to generate an income through delivering content to an audience.
Social media enables access to audiences without the need to go through a broadcaster or publisher. But creators need access to technological tools to streamline the process of making fab content.
Evolution of the Creator Economy
According to Medium.com's article 'Evolution of the Creator Economy', this progression follows a pattern that's evident in any given creative industry:
Pioneer Era — first-movers create their own technologies, e.g. Pixar, Amazon, Zynga;
Engineering Era — bottoms-up tools and middleware emerge to support overwhelmed engineering teams, e.g. Ruby on Rails, Stripe;
Creator Era — top-down tools emerge to support a much larger market of creators and disrupt many of the businesses of the prior eras, e.g. Adobe, Shopify, YouTube.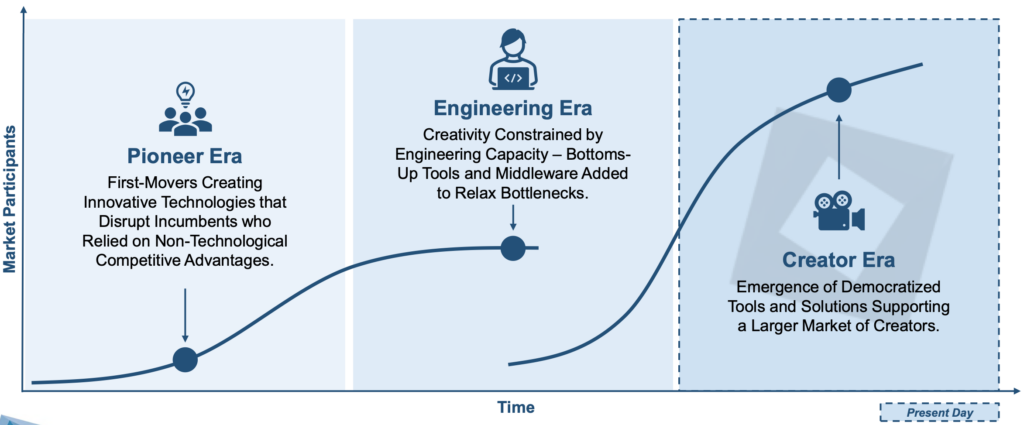 Prosumer technologies take centre stage
Enabling "prosumer" technologies are a key symbol of the Creator Era. Musicians are expected to expand beyond streaming services like Spotify and Apple Music to technologies that drive discovery on those platforms and empower them to connect with their fans.
We are also seeing a convergence of podcasts and videos; for example, OffCamera with Sam Jones, which records interviews with filmmakers then releases the audio as a podcast and the black-and-white video footage as an online TV show.
According to Bloomberg, YouTube is reaching out to podcasters and podcast networks, offering "grants" of up to $50,000 to individual shows and $200,000 and $300,000 to podcast networks to entice them to create video versions of their shows.
Silverwood Partners' Media Technology: Strategic Industry Analysis 2022 says YouTube's decision to effectively fund podcasters' adoption of video serves to validate a wider-industry trend: video will pervade all aspects of entertainment.

Tap into the Creator Economy
If you'd like to tap into the opportunities the Creator Economy offers, please reach out to us for a free demo of our video management platform.