Irish Times: Overcast plans to add 70 jobs after raising €500,000
Irish Times: Video collaboration platform Overcast said it will add 70 jobs in the next three years after it raised €500,000.
The Ireland based start-up, which launched its services last year, also plans to expand into new markets with its product.
Overcast, backed by Enterprise Ireland, integrates the storing, sharing and distribution of video content for producers, media agencies, marketers and broadcasters. They have the goal of making it as easy to manage large video files as it would be to manage documents.
"Despite being a young company we have already attracted a number of blue-chip clients such as the Daily Mail and Dublin City University, " said chief executive Philippe Brodeur. The funding will be used to expand our headcount to help with additional product development and also expand into new markets as companies around the world face the same challenges surrounding the management of video files."

Irish Times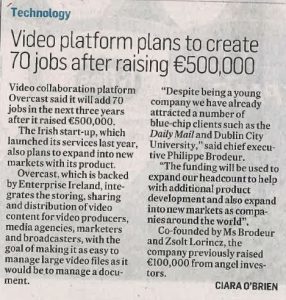 Check out our Blog Posts.

Check out our New Updates.