Wow!! Streaming TV Viewing Grows 165% In Q4 2018
2018 saw the convergence of heightened viewer expectations and waning patience in the streaming TV industry. That's according to the State of the Streaming TV Industry 2018 from Conviva, a real-time measurement and intelligence platform for streaming television.
A challenging landscape
Conviva's findings show that while measurable improvements are being achieved, factors such as skyrocketing traffic, growing consumer impatience, device diversity, and spikes in live viewership continue to make streaming TV delivery progressively more challenging overall. 
Conviva analyzes 50 billion annual streams across 200 million users and compiles its annual report from 3 billion video applications streaming on devices globally, measuring 1 trillion data events per day.

Meteoric rise of streaming TV
The report shows that streaming TV continued its meteoric rise in 2018 with 89% growth in global viewing hours and 74% growth in plays as compared to 2017. This trend accelerated in the last quarter of 2018 with 165% growth in viewing hours and 143% growth in plays year-over-year.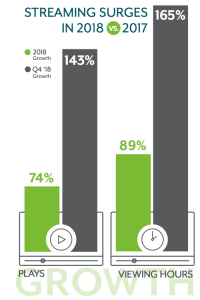 The shift from traditional TV
This growth reflects a multi-year trend of cord-cutting as viewers shift their eyeballs and dollars from traditional cable or satellite options to streaming TV. This explosion is framed by a backdrop where streaming has gone from novelty to necessity and consumers have more choice than ever.
Less patience among viewers
But it's not all good news for streaming providers. In 2018 viewers were in a position to be more demanding and less patient. This report reflects this with a 7% increase in abandonment across all content worldwide, at 14.6% in 2018 as compared to the 13.7% in 2017. 
The rise in viewer-initiated exits indicates increased impatience with streaming delays. This effect was amplified when viewers faced delays in situations where they expected the experience of traditional TV viewing. Rates of abandonment were 16.7% for live content up from 11.2% in 2017, 8.5% for U.S. vMVPDs up from 5.4%, and 6.6% for connected TVs up from 4.7%.
What does this mean for streaming services?
As options proliferate, the choice available to viewers demands streaming services not only focus on acquisition of customers, but on retention with an extraordinary experience.
Buffering: the black spot
One area in which streaming services showed a marked improvement is buffering i.e. when the video pauses during playback so it can reload. This is a major source of ire to viewers. Buffering improved 23% in 2018 to .69%, however, this still translates to 25 seconds of waiting in an hour-long show.
The need to exceed expectations
Conviva's latest State of the Streaming TV Industry highlights significant shifts during 2018 that illustrate both the vast potential and the volatility of a rapidly maturing market. These shifts further cement that amidst skyrocketing growth, exceeding expectations is a business imperative for providers looking to increase engagement, retention, and ultimately revenue. 
NEWSFLASH: Overcast will be at the NAB Show in Las Vegas in April. You can find us on the AWS stand. We'd love to chat with you about how to make managing video easier. To arrange a meet up with CEO Philippe Brodeur, please email philippe@overcasthq.com. Looking forward to seeing you there!