How Enterprises Are Creating Video More Easily
The old way of creating video is broken
There's no denying the domination of video with more than two billion monthly active users on YouTube and one billion on TikTok.
In our last post, we looked at trends in the acceleration of video management technology, which is driven by factors such as remote working, the ever-increasing demand for streaming content, and the rise of video content creators.
However, the 'players' who are creating video — streamers, creators, and enterprises — have had to face the reality that the old way of working with video simply isn't viable anymore.
The impact of the pandemic on creating video
The pandemic sent video creators and enterprise employees scuttling back to their houses where they had to rustle up home offices. That, in itself, was a challenge but then they faced the hair-tearing-out problems of collaborating remotely on video projects: how to find clips they needed, how to enable shared access to different versions, how to get reviews/approvals, how to execute simple edits, etc.
Streamers and video creators scrambled to find technological solutions to these challenges. Initially, these were solutions designed to "get by". But now the new, more efficient media pipeline management workflows are being adopted as the new status quo, and technology has improved to fulfil those needs.
The result of that technological innovation is proven: Silverwood Partners' Media Technology: Strategic Industry Analysis 2022 states that 84% of businesses reported their company's video content output increased over a 12-month period in 2020/2021.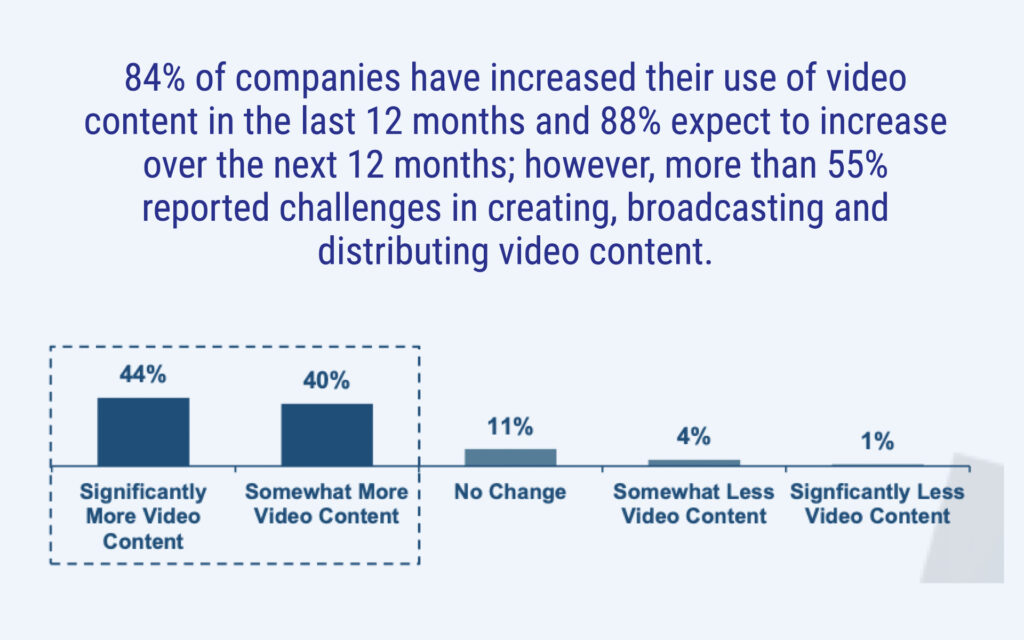 That trend is set to continue: the report also illustrated that in the subsequent 12 months, 44% anticipating a significant increase.
How video technology is improving
Traditionally video content creation, broadcasting and distribution required skilled practitioners and specialist equipment. But there's a growing demand for technology that simplifies those processes and makes them accessible to people who don't have video production experience: 83% of respondents quoted in the report believe their company would create more video content if technology made it easier to do so.
However, "easy" doesn't mean "low quality". Consumers demand high-quality video, so creators are seeking technologies that facilitate them to make professional-grade content to integrate into a tech stack, as illustrated in Silverwood Partners' report:

How to manage your media pipeline
A media asset management platform empowers your team to collaborate on video projects effortlessly. Overcast's SaaS platform future-proofs your video production operation, and you can simulate your costs before investing.
We'd be delighted to give you a demo of our platform — please click here to request one.