Enterprise Video Use Cases
"2022 has seen video become a major component of remote work and customer engagement. Enterprise video makes a difference when it comes to better employee and customer experiences." — Aragon Research Globe for Enterprise Video, 2022.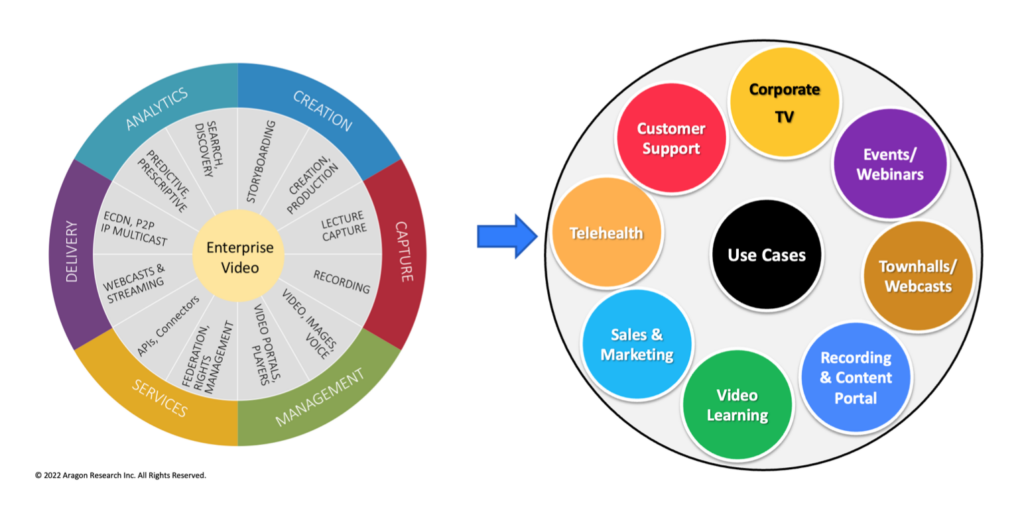 The ways in which video can be used to support business functionality is almost limitless. Instead of sending memos, we can send a short video via email or text. Instead of meeting people in person, we can exchange the same information through video-conferencing. Instead of holding corporate events, we can invite people to tune into a livestream.
This is just the tip of the audio-visual iceberg in terms of enterprise video use cases.
How enterprises can leverage video
There are applications for every department in an enterprise organisation:
Marketers can promote the company through a promo video, social videos and video case studies.
Sales teams can leverage product/service videos, how-to videos, interviews with experts, and product launches.
The HR department can benefit from using video for recruitment, training, orientation and compliance.
Upskilling your employee base is also ideally suited to videos that share educational content and interactive training material.
Video also has a wide range of internal communication use cases for enterprises, including virtual meetings for remote teams, CEO speeches to employees and corporate change announcements.
Technology and innovation in enterprise video
Innovation is driving the creation of new technologies and the improvement of existing ones.
This creates an array of tools that enterprises can use to add a bit of sparkle to their videos, for example: 360 videos, drones, animation, video filters, and more.
Overcast enterprise video case study: YETI
In the US, two brothers with a passion for the outdoors needed a cooler that wouldn't break. So, they founded YETI. They now have a content team that works globally across major markets, including the US, UK, Europe, South America, Africa, Asia, Australia and New Zealand.
So, they needed a platform to ensure their media is managed appropriately. They chose Overcast. Find out how we solved their challenges in this case study.
Choosing the right video platform
Once an enterprise has identified its ideal use cases for employees and for customers, the next step is to choose a video platform that can best deliver on that vision.
We would be delighted to give you a free demo of our platform so that you can see for yourself how much it would benefit your enterprise.