CTV Ad Spend To Double By 2026
CTV Ad Spend
Ad-Supported Video on Demand (AVOD) is a relatively new kid on the block in the TV landscape, but it is shaking up the viewing landscape in a radical way. 
"As millions of households continue to cut the cord, for the first time in decades less than half of US households will have traditional pay TV in 2023." [eMarketer]
The 2023 Audience Insights for Brands report (by TUBI and Fox) explores the ever-changing and very competitive race to capture and retain viewers.
Why AVOD?
Why are millions of viewers flocking to AVOD? Well, it makes sense: AVODs offer a vast amount of content on easy terms: convenient and (mostly) free. Consumers can save their hard-earned money on CTV monthly subscription fees by agreeing to see ads (usually a few per hour). 
"Connected TV (CTV) is now the primary way audiences consume streaming content." [Comscore, State of Streaming]
The number of CTV viewers is expected to increase by 2026: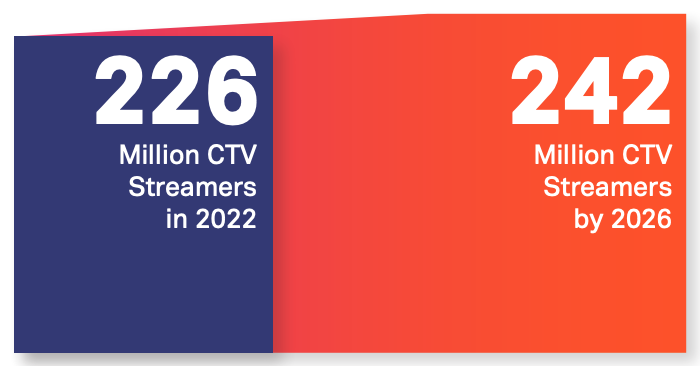 The rapid adoption of CTV means advertisers are shifting investments to keep up. 
"CTV ad placements are expected to more than double from 2022 to 2026." [eMarketer]
Will AVOD continue to grow?
It certainly seems so! Trends in CTV ad spend, SVOD churn, and linear TV subscription all point towards AVOD's continued growth in streaming. 
"Double-digit growth in CTV advertising is projected annually through 2026 where total spend is expected to claim over 40% of combined TV ad placements." [eMarketer]
As economic pressures on SVODs mount, they are increasing subscription costs and advertising; thus, consumers are feeling the pinch. Combine this with SVODs' reduction in original content development and it's a no-brainer that viewers are seeking value elsewhere. It's estimated: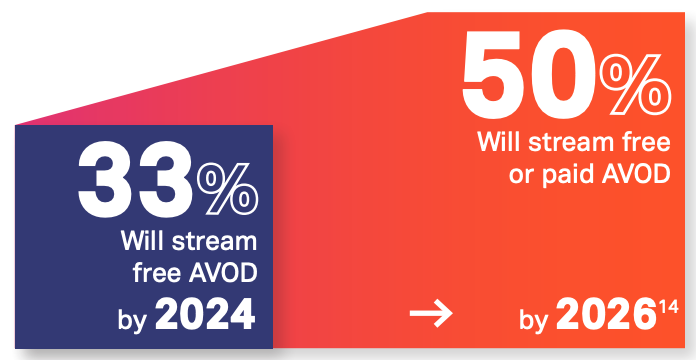 The 2023 Audience Insights for Brands report says that for traditional "pay TV" (cable, satellite, etc.) 2023 is the tipping point.
Since an increasing number of viewers can be found online instead of sitting in front of a TV set, buyers need to find new ways of communicating with them.
AVOD leading the way
It was demonstrated in 2022 that not only is AVOD here to stay, it's here to lead the way.
The 2023 Audience Insights for Brands report says that for years, ad-supported streaming was secondary in the television market, but today many TV and SVOD services are embracing the AVOD model with their own ad-supported options.
"Nearly 1 in 3 streamers plan to cut back spending on subscription services, and 48% of linear TV subscribers who stream are considering dropping their cable or satellite services." [Magid]
In the UK, the BBC is preparing to close down its traditional television and radio broadcasts become an online-only service over the next decade, according to the director general, Tim Davie.
Five key takeaways
The 2023 Audience Insights for Brands report whittles down its extensive insights into five key takeaways:
AVOD leads in consumer adoption.
AVOD provides the right content at the right price.
Viewers want varied, high-quality, fresh content that's easy to find. Additional desired factors that influence their choices include price, sharing of logins and the option to stream without an account.
Satisfaction drivers are "a good mix of content", recommendations and seamless navigation.
CTV ad spend is fuelled by a shift from digital video, social media, OOH and traditional media dollars.
CTV ad spend
The state of streaming TV is having a dramatic effect on advertisers' decisions.
40% of ad buyers intend to increase their CTV budgets moving forward whereas only 1% plan to decrease their spend. By comparison, 12% expect to spend less on linear TV in the future.
"From 2022 to 2026, CTV ad spends are projected to more than double from $18.9 billion to $38.3 billion." [eMarketer]
Get a free demo
If you want to increase revenue by tapping into CTV advertising, have a chat with us about ensuring your team manages its media files and video production seamlessly. We would be delighted to give you a free demo of our platform.